Jim Kellow's Meetup Notes & Agenda
Hello, My name is Jim Kellow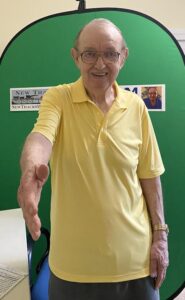 Welcome to "New Tracks" Meetup.
"Where Mentors Help Modelers Build"
Thanks for coming, come back often, & tell your friends.
1. Subscribe for our Zoom Meetups at our website, NewTracksModeling.com
Don't forget to confirm registration by clicking the "here" link in the email sent. Check your "spam" box if you don't see the confirmation email from webmaster@newtracksmodeling.com.
If you are subscribed you are eligible for our random drawings for Prizes on some of our shows. 
To make sure your friends can subscribe, please forward the registration link with them. It may take a few days to process their email confirmation.
2. We need a lot of "Help" producing our shows. All kinds of jobs are in need of volunteers.  Specifically we need people who can start one of zoom shows. We need people who can edit our videos. We need people  who can post items on our website. We need people who can post our shows on facebook and other media sites.  We need people who can do follow up with our various guests. Please  offer a little of your time.
3. Upcoming "Build Alongs"
Jim Murphy is building a LaBelle Woodworking Business Car starting on September, 11th.
Available in HO snd O get a 25 % discount mention New Tracks. (https://www.labellemodels.com/)
Martin Breckbiel MMR is building a Leadville Designs Maintenance of way car starting on September, 22nd.
This kit is available in HO, S, and O scales. Order between 8/15 & 9/30 to get a 10% discount. Mention New Tracks. (https://leadvilledesigns.com/)
Bill Davis is building a Rail Scale Models Tobacco Barn Kit.  Starting on October, 16th.
Stephen Milley, owner of Rail Scale Models, has given a 20% discount for the kit for modelers who want to "Build Along" with Bill Davis. The discount code is now set up for the Tobacco Barn in all four scales (N, HO, S, O) for 20% off MSRP.  The buyer must use the coupon code NewTracks, (one word), at the check-out screen.  This code will be in effect from June 1 thru Oct 30, 2021. (https://www.rail-scale-models.com/)
4. The next "My Build" is August 21 with Moderator Jeremy Wyant.
This My Build  will be open to everyone. All you have to  do is send a photo(s) with a caption and your name to Jeremy so he can include it in his Power Point presentation.  If you want  you can be live to discuss your model photo(s) as Jeremy shows them. The MY BUiLD is for you to briefly  show us what You are building. If you want to go into a more detailed presentation, we can schedule you for a special segment to do that. My BuIds are so we can share our modeling and show our accomplishments in hopes of  having other modelers want to become enthusiastic about BUILDING  Models.
5. Got a Modeling Question?  Go to our website and fill out the form. I will ask  a modeler to answer it, and if needed, we will do a special segment on our show
6. Quick Tips with Martin Breckbiel MMR tonight. Paul Thompson on Wednesday  Ted Becker on Saturday shows. Anyone want to share one if their Quick Tips on the show please contact Paul or Ted. Ted's email address is rail.bird@att.net
7. Special Segments:

Martin  Brechbiel MMR   Building an Old Kit
Kris Blackmarr  Sandbox modeling
8. Our Featured Modeler is Brian Wolfe owner of Mainline Hobby Supply (mainlinehobby.com)
9. Our next  ZOOM "New Tracks Meetup" is Saturday July 31 with our Featured Modeler is. Wayne Wesser Craftsman  forest scenery, and our Special Segments with Dave Rarig "Build Along" of a Paul Egri card model;  Kris Blackmarr modeling; Dave Silvernsil Scenery water;   and "Quick Tips" with Paul Thomson and Ted Becker
10. Please visit our website NewTracksModeling .com  and click on the News &  Meetups for more information on our upcoming shows and activities. Send Jim Kellow an email with your comments and ideas for the show.
Thanks for coming.
Hope you learned something and enjoyed the show.
Happy modeling.
Jim Kellow MMR
Facebook Page: https://www.facebook.com/Jim-Kellow-MMR-107123997469688/
Web Site: https://newtracksmodeling.com
APMM Model Railroading Ambassador
Modelmakers.org.