Home Page Quick Links
Announcements
New Tracks Meetup Show
Modeling Lifestyle Show
My Build Show
Build Along Show
About New Tracks Modeling

New Tracks Modeling
"Where Mentors help Modelers build better"
Announcements
New Build Along Kit Discount Begins! Starting November 02, 2022 through December 15, 2022, Berkshire Valley Models, Walsh/Duncan Bay Window House in Animas Forks, Colorado Kit [Details Here]
New Build Along Kit Discount Begins! Starting November 01, 2022 through January 01, 2023, New Creations Victorian Railroad Buildings, St. Mary Star of the Sea Catholic Church of Ocean City, Maryland kit [Details Here]
We Need YOU!     Subscribe to my website NewTracksModeling.com to get the zoom log in link to Join us on my live zoom. "New Tracks" meeting October 12, 2022 at 7pm Eastern Time.  Hope you can join us.  Hit the subscribe button!!  Don't Miss out!!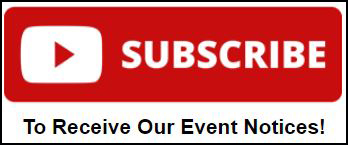 Check out our new "Caboose" segment HERE!
---
Meetups, Build Alongs and other Events
Upcoming

"New Tracks Meetup"
Every Wednesday evening at 7pm Eastern, 4pm Pacific.(Find out what's in store on the calendar Here)
---
Previous

"New Tracks Meetup"
Wednesday,  November 23, 2022!
---
Upcoming

"Modeling Lifestyle"
Presented on alternating Thursday's at 7pm Eastern!
Each show will introduce you to a different Featured modeler, along with some of their friends. They will discuss their life in modeling, some of their favorite stories, their modeling experiences, opinions about the hobby, and suggestions to help all of us improve our modeling. In effect we will find out how modeling has become a part of their Lifestyle.
(Find out what's in store on the calendar Here)
Previous

 "Modeling Lifestyle"
Please subscribe to our YouTube channel and ring the bell to get notices of our future shows and insure you do to not miss seeing more great modelers every two weeks. We Look forward to seeing you.
---
Upcoming My Builds
The next My Build, where you can "show and tell" us what you are doing will be December 21, 2022.  Please contact and forward your pictures to Chris Coarse at railrunner130@hotmail.com.  High resolution pictures preferred.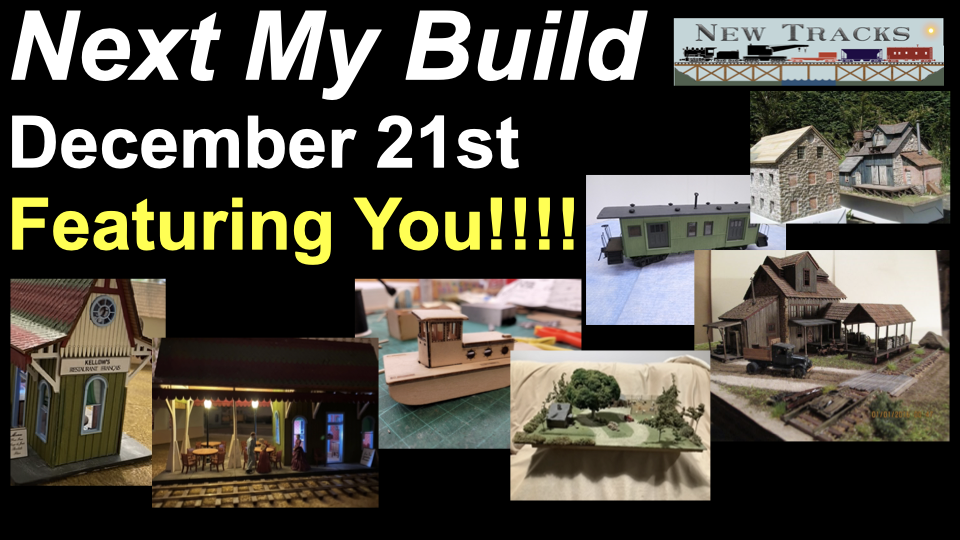 ---
Click on the picture for more information!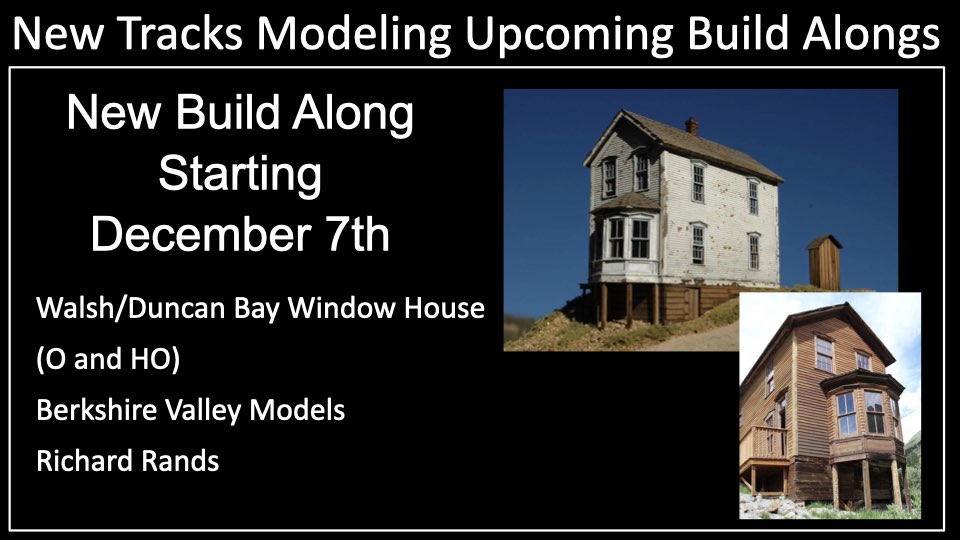 Click on the picture for more information!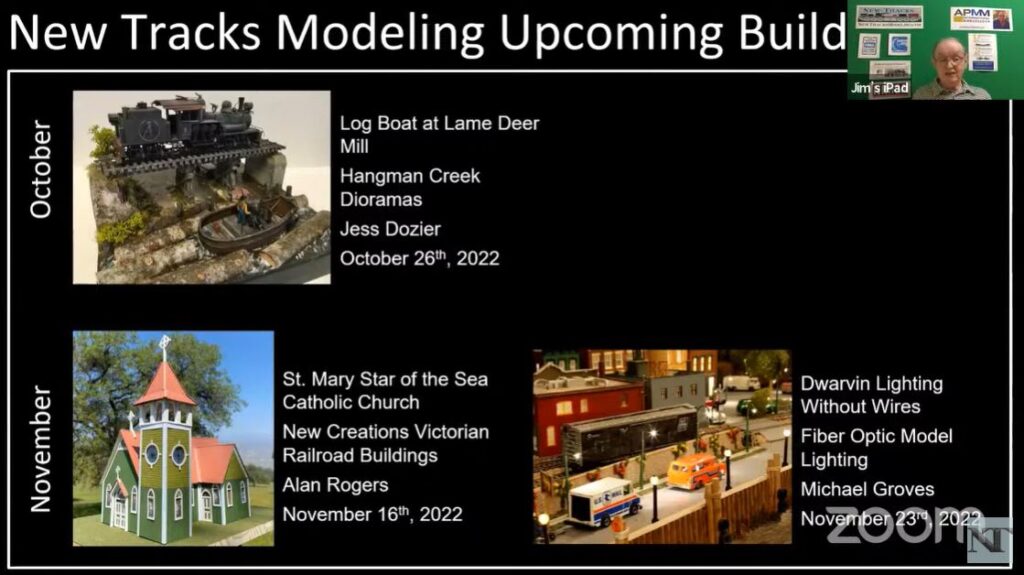 ---
New Tracks Modeling has opened a Patreon account where viewers can make
contributions to help defray the cost of the show and to help fund the "New Tracks Modeling Scholarship Fund" for high school students pursuing a STEM program in an institution of higher learning.  Click the button to the right or click here for more information.
---
Hello, I am Jim Kellow MMR and I founded "New Tracks Modeling" with the help of many Manufacturers and Individuals to introduce some of the most talented model builders in the world to model railroaders who want to gain new skills and/or improve their model building. You may be fortunate and gain a personal mentor to work with.
You will find many sources of modeling information as you explore this website. Over 4 years of my "New Tracks" series about modeling and mentoring in "S Scale Resource" and "O Scale Resource" online magazines is included. Also, you can find our weekly, Zoom/YouTube live streaming Mentoring meetings, which are held Wednesday  Evenings at 7 pm Eastern and Saturday afternoon at 1 pm Eastern Time.  The shows feature modelers actually building models and in some cases You are encouraged to "Build Along" with these modelers and have their guidance and help in completing your model. In essence, they become your personal mentors for the build. You can find over 500 videos of our previous shows in the YouTube Playlist TAB on the menu.
To join our Zoom shows you must subscribe to this website to receive the Zoom login Links weekly. If you prefer to watch live on Youtube you must subscribe to our YouTube channel, New Tracks Modeling, and ring the bell.
Jim Kellow MMR
Facebook Page: https://www.facebook.com/Jim-Kellow-MMR-107123997469688/
Web Site: https://newtracksmodeling.com
APMM Model Railroading Ambassador Modelmakers.org.
Member Hobby Manufacturers Association hmahobby.org)