Welcome to
My Build
Where you Show and Tell us what you built!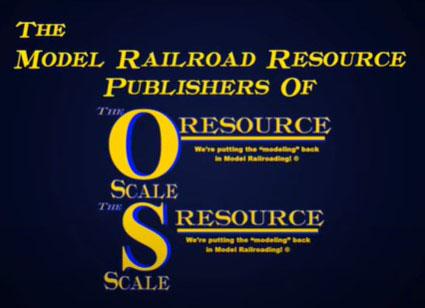 Sponsored by The Model Railroad Resource, LLC
Publisher of  O Scale Resource and S Scale Resource
My Build is your opportunity to show your model, the prototype that inspires your work, the process, tools and techniques you use, and/or it's an opportunity to get feedback and questions answered.  It is a virtual "show-and-tell" that serves as a monthly capstone for New Tracks participants.
Chris Coarse of Conowingo Models is our host for this series.  He comes with many years of building and producing his own models.   He knows what it takes to put together, be dedicated and stay with it to the end of the completion of a model.  He welcomes you all to show off your prized models with us.  He will work with you to provide us with the information we need to show off your pride and joys.
My Build Segments are scheduled once monthly throughout the year for the Wednesday New Tracks Meetup.  A modeler should submit 1-5 photos or PowerPoint slides and plan for around about 5 minutes to talk about their work and allow for discussion from meetup participants.  Submit your work, along with a photo of yourself to Chris at railrunner130@hotmail.com at least a day or two ahead of the meetup, but sooner is better!
Remember, the real learning experience is in the "show and tell" discussion and the additional pictures of how I did it in the videos.  Make sure you watch them!
Click on the segments/dates below to see a brief picture preview of the builds.
NOTE!  This page is under restructuring as are other pages in this website.  It all takes time to do so I will try to keep everything updated based on current events and work on past events in between shows.   Webmaster
Featuring models built by; Ed Cady, Martin Brechbiel, Tony Dixon, Phil Edholm, Bob Farquhar, Jeff Jordan, John Sherwood, Gary Shurgold and Fr. Ron Walters.
Martin Brechbiel shows off three of his scratch-built, kit-bashed and repaired tank cars.  Bob Davidson shows of his 17th century scratch built "Long House".  Tony Dixon shows of his S Scale International tractors he kit-bashes.  Bob Farquhar shows off his "Kooning Hockey Supply" made from a Bar Mills Models' "Clark Wood Products" kit.  Jeffrey Jordan shows us how to do window treatments.  Dmitry Voronov shows us his scratch built military tank on a flatcar scene.
John Garaty shows off his Corrimal Incline Mine layout in O-16.5 or 2 foot gauge.
Martin Brechbiel shows off his Riverside Oil car, Heinz tank car and a couple of buildings in O scale.  Greg Cassidy shows us his Conowingo GE 35 ton Flat bed doodlebug on a AHM switcher frame in HO.  Jeff Jordan shows us his completed freight house from last month in O scale.  Alan Rogers shows us his church kit inspired by his trip to Maryland and his kit build bulldozer.  Rich Wolfanger shows us his wood cabin loco with all the details and his Dry Goods Lumber Work Clothes building and Bill Stimson shows us his Kavanagh scene with lots of detail items.
Enjoy the models by Jamie Bothwell, Martin Brechbiel MMR, Greg Cassidy, Bob Farquhar, Jeff Jordan, Bill Stimpson, Mike Warman and Rich Wolfanger.
My Build – May 29, 2021
Jeremy Wyant and Don Phillips show off their Down Town Depot – "First Timer Bar" build along and Don Phillips shows of his Conowingo – "Grey Street House" build along.
Jeremy Wyant, Geoff Bunza and Mike Worman show off their Conowingo Model – Grey Street House Build Along.