30′ King Post Bridge 
Beginning May 22, 2021, Rick and Maureen Hunter will be building and weathering their Hunterline kit of a 30′ King Post Bridge.  They will be building the S Scale version. The kit is available in N, HO, S, and O.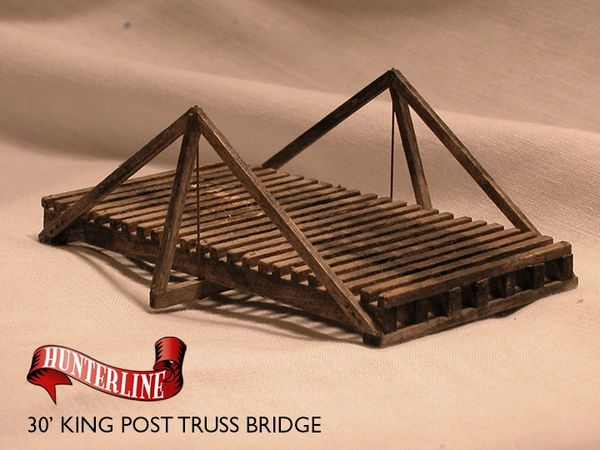 Join Maureen and Rick from Hunterline, as they take you through, step by step instructions, to build your own Hunterline 30' King Post Truss Bridge in your scale
Skills to learn: read templates and instructions, distressing basswood, staining and gluing techniques, assembly, drilling for rods, NBW installing, finish weathering techniques. This is a beginner to intermediate difficulty. Old pros can learn a few things too!
Recommended Tool List
Work Surface – cutting mat – big enough for your scale
Leftover dish for stain
Wood glue – fast tacking carpenters glue such as Titebond Regular or II, Elmers or LePages
Masking tape
Waxed paper
Pin vise (drill bit is included in the kit)
Razor saw and/or Xacto knife
Tweezers – very sharp point is helpful
Wire snips
Small files, clamps, cheap brush
Disposable gloves
Patience
The price includes the kit and two bottles (8oz) of Hunterline Weathering Mix – a base color, and a highlight color. The highlight color Rick and Maureen recommend is their Creosote Black. They will advise you on the base coat if you tell them the desired look you want to achieve.
Please order by May 8, 2021, to ensure delivery before the BUILD ALONG starts on May 22.
The Kit, 2 bottles of Weathering Mix & Shipping cost to your address:
("New Tracks" Meetup Special pricing)
N – $65.00USD
HO – $68.00USD
S – $72.00USD
O – $80.00USD
You must order by email:  rick@hunterline.com
For more information visit the website:  https://www.hunterline.com/
Or Phone:  1-866-934-4174

Introducing Pat & Maureen Hunter and information about the kit
Part-1 – Preparing the lumber – May 22, 2021
Part 2 – Cutting & Staining the Lumber – May 29, 2021
Part 3 – Adding Ties and NBW's – June 5, 2021 
Part 4 – Adding the large NBWs and Rods – June 28, 2021