Starting April 6 David Vaughn owner of Wit and Wisdom Models, will team up with Jim Murphy for a Build Along of one of his new John Armstrong inspired kits the "Nighthawks: Cafe". To many of us this is a historic model built originally by a truly great model railroader. We are fortunate to have David Vaughn provide a kit for this model.
The Nighthawks model comes in two variations (complete/full scene and cafe only) in four different scales (O,S, HO and N). The full scene contains a row of stores from the original Hopper painting which adds greatly to the authenticity of the scene, as well as the forced perspective street and mirror to add depth. The full scene also includes an apartment to the rear and right of the cafe to add balance.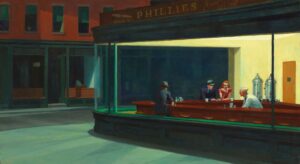 Original Painting by Edward Hopper
The kits are computer designed and laser cut. Parts are numbered. The kits come with complete, step by step instructions and background on the painting and model.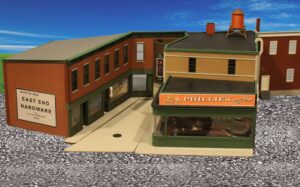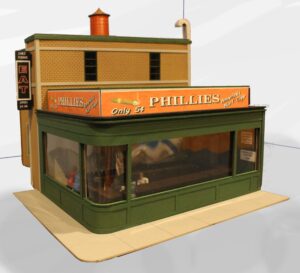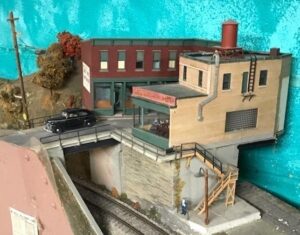 Original model by John. Armstrong
Full Size Scene (shown) and Cafe Only Kits available
The kit is available in N HO S and O scale David is offering a 10% discount off the list price for in stock kits for the Cafe only and Full size kits for our viewers. You must use the code New Tracks at the time you order to get the discount. Once the current in stock inventory is gone, or June 30, 2022, the discount will be ended. I encourage you to buy a kit as soon as possible to ensure you can get one in the scale you want. Please visit the Wit and Wisdom website for more details about the kit.