Starting March 30, 2022 Rick and Maureen Hunter will start building and weathering a Hunterline 50' Queen Post Truss Covered Bridge. (Railroad Bridge). Kits will be available in Standard or Narrow gauge in N, Nn3, HO, HOn3, S, Sn3, O and On30 scales. This time they plan to video the segments and pre-send them to whoever will be doing the Build Along with them. Then they will also build the model live on each of the show segments. The kit is available in N, Nn3, HO, HOn3, S, Sn3, O and On30.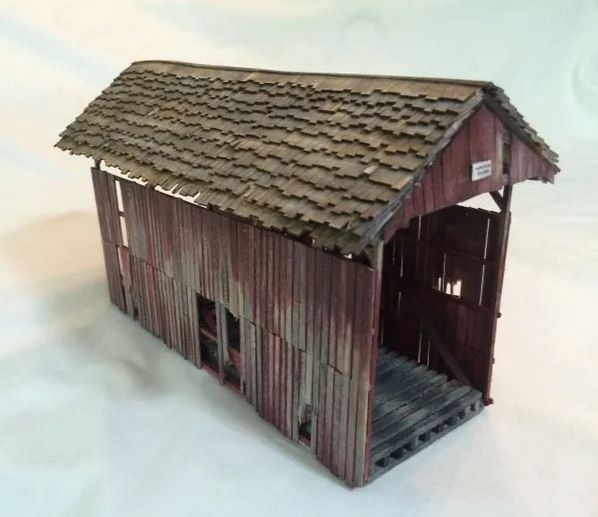 Join Maureen and Rick from Hunterline, as they take you through, step by step instructions, to build this kit.
Skills to learn: read templates and instructions, distressing basswood, staining and gluing techniques, assembly, NBW installing, applying Hunterline's basswood Roof Shakes and weathering techniques. This is an intermediate difficulty. Old pros can learn a few things too!
The discounted price Includes the kit, two bottles (8oz) of Hunterline Weathering Mix, a chance to win a $50.00USD Hunterline Gift Certificate and free shipping to your address.  Register and order your Kit in your scale and Weather Mix colours by emailing: rick@hunterline.com or calling 1-866-934-4174.  Deadline to order – March 18, 2022 to allow time for shipping.
More information about Hunterline is available on their website.
Part 1/7 – Overview of the bridge, setting up your workbench and tools needed – March 30, 2022
Part 2/7 – Building the base, ties and underside of the bridge – April 6, 2022
Part 3/7 – sdfasfafs – April 13, 2022