Thanks go to all the volunteers who help "New Tracks" become successful.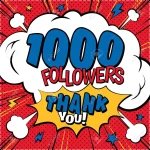 On July 18, 2022 we reached a milestone by having the 1,000th modeler subscribe to our YouTube Channel, New Tracks Modeling.
Thanks to everyone for your internet and support of our live Zoom shows. We have some exciting ideas for our future shows and a lot of outstanding companies and modelers for you to meet, and learn about their modeling philosophies, techniques, and skills.
"New Tracks" currently has two different shows which introduce talented experienced modelers who could become your Mentor or at least give you ideas to improve your modeling and the confidence to try new techniques. We have something new every show and try to make all our shows a unique, enjoyable learning experience one small step at a time. make sure you don't miss one of them by subscribing to our YouTube channel, New Tracks Modeling, and clicking on the bell. I think you will be glad you did.
If you are not already one of our Youtube subscriber I hope you will become one and help us by sharing your ideas and thoughts about what content we should offer on our shows and guests you would like to meet. Everyone is most welcome.
Also please tell your friends about us so they can also join in the Mentoring and fun of our shows. Thanks in advance for your help. Word of mouth is our best way to advertise our shows. Please help us.