The National Model Railroad Association is many things to many people. Membe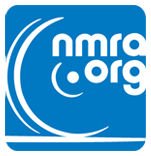 rs at all levels of the NMRA are eager to share their knowledge and friendship. There are many groups of NMRA members in local, regional and national communities. Most hold regular meetings featuring interesting and informative presentations on subjects ranging from "how-to" clinics to prototype railroad slide presentations, tours to model layouts, prototype tours, and even banquets and swap meets. Many also have a regular newsletter for members.
In addition, members have exclusive access to Data and Standards Sheets, The Pike Registry, and dozens of other resources. The NMRA is also deeply involved with developing both Module standards and Large Scale train standards, again helping to ensure that hobbyists enjoy the many benefits of equipment compatibility. The NMRA's Achievement Program is designed to help modelers improve their skills and get more enjoyment out of their hobby. In addition, it gives recognition to those members who have displayed a high degree of skill or service to the hobby. The Achievement Program helps give you the skills that let you build a model railroad you can be proud of.
We feel that New Tracks Modeling has similar goals and purposes as the NMRA, to help you develop your modeling skills and improve your ability to build and achieve your goals. We are happy to partner in with the NMRA.