CAD Designed Girder Bridge for 3D Printing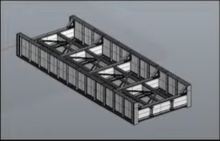 Starting July 13 we have a Two Step Modeling Build Along with Earl Hackett. Look at our June 8, 2022 show on our Youtube channel New Tracks Modeling to find out details of what this 3D printing CAD learning experience is all about.
Step 1. A CAD produced Model BUILD ALONG using a free Downloadable CAD program to produce the parts needed to build the model.
Step 2. Get the CAD parts printed.  Print them on your own printer or have a friend print them or have a company do it.  Or have David and Kristin Kmecik owners of 3dptrain.com print your parts as they are offering a 10% discount to all "New Tracks" viewers who need their parts printed. Thank you David and Kristin. You can contact them at Info@3dptrain.com
Step 3: Building the model.  Earl wanted to do something that was complex enough to show all the problems that can be encountered during a CAD design. He felt a 50′ plate girder bridge would be a good topic. Earl searched his digital copies of MR and found drawings and dimensions. It looks complicated, but there are only 7 or 8 parts that you have to design that are used over and over. Rather than building it in one big print it will be printed as a kit – a bunch of parts to be assembled. The biggest challenge is putting in all the rivets.
Once you get the parts needed to Build the Bridge, everyone will be able to Build Along with him. To give everyone time to get all the parts made we anticipate this will start on the September 21 zoom show for 4 shows.
June 08, 2022 – Introduction, These are the hammer, chisels, and saws of Computer Aided Design. By the end of this series you will not be ready to bold a Queen Ann's chair, but you will be able to build a really nice picnic table.
Introduction – Slides Introduction –  June 10, 2022
Lesson 1 – Constructing the main girder and outside braces – July 13, 2022
Lesson 2 – Completion of the girder details and addition of the cover plates. LOTS of rivets in this one – July 17, 2022
Lesson 3 – Completion of the major components plus how to back out of a mistake in a history based CAD system – August 10, 2022
Lesson 4 – Addition of the top and bottom cross braces – August 24, 2022
Lesson 5 – Preparing the model for printing, print it and complete it – September 7, 2022
Lesson 6 – Finishing up the girder and general discussion about CAD for modeling
Thank you Earl.